The London Borough of Hounslow NHS Health Checks Programme Review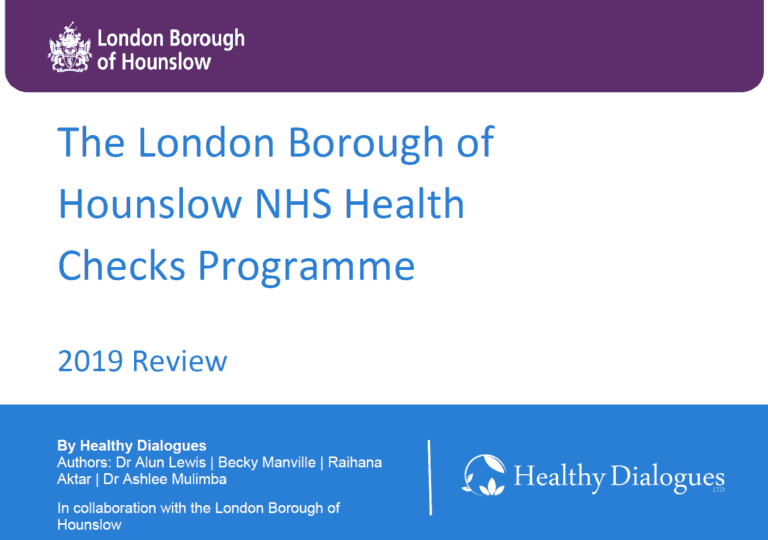 The NHS Health Checks programme is population-level screen programme aimed at identifying risk and reducing the impact of long-term health conditions such as stroke, kidney disease, heart disease, type 2 diabetes and dementia. It is a targeted approach for adults aged 40-74 who receive information on their health risks and how to manage those health risks. It is one of the largest public health screening programmes in the world.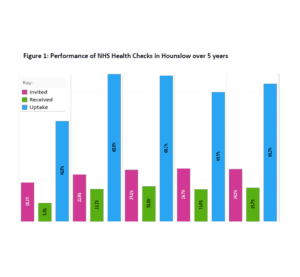 The past five-year data shows that the Hounslow NHS Health Checks programme is performing very well against national targets in comparison to London and England with respect to the proportion of eligible population offered a Health Check and their uptake of the NHS Health Check and these figures are improving each year.
The London Borough of Hounslow commissioned Healthy Dialogues to conduct a review of the activity and outcomes of the Hounslow NHS Health Checks programme over the past five years. The purpose of the review was to understand what was working well and to make recommendations for improvements and sharing of best practice.
Methodology
Our review comprised of four stages to explore how effectively the Hounslow programme was meeting the recommendations of the national programme:
Stakeholder Interviews
Provider interviews and data review
Equity review
Patient feedback
We followed NHS Health Checks STARs Framework and the Oxfordshire Quality Assurance Tool and utilised mixed methods approaches to audit strategic plans, commissioning of the programme, the programme delivery and equity of that delivery and the outcomes achieved.
Findings
This review found consistent evidence that the Hounslow NHS Health Checks programme is a well-structured, resourced and well-led programme. It has been successful in attracting providers to deliver NHS Health Checks and patients choosing to take part. Strong partnerships help promote NHS health checks among local residents.  Hounslow also benefits from local services that can respond by providing a comprehensive lifestyle intervention based on national specified criteria.
Our review also identified key themes that stakeholders and partners could look to drive good practice consistently across the borough and provide a more comprehensive offer.
They included:
Understanding the referral pathway
Consider and planning for future challenges to the NHS Health Checks programme
Refining the NHS Health Checks offer so it is accessible to those harder to reach or protected communities
Developing greater consistency in delivery and reporting
Improved communication of NHS Health Checks messages and risk scores
Patient engagement
Contact us to learn more.