Merton Social Prescribing Programme Evaluation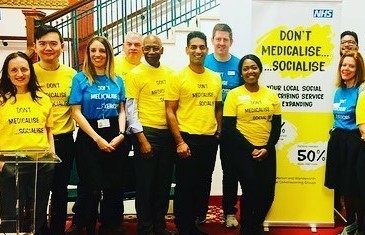 Merton CCG and Merton Council set out to test a model of Social Prescribing that would connect medical care with local voluntary and community resources.
Social Prescribing is a means of enabling GPs, nurses and other primary care professionals to refer people to a range of local, non-clinical services.
Healthy Dialogues was asked by Merton Council to do a formative and summative evaluation of the initial results from the Social Prescribing programme as well as produce recommendations for upscaling across Merton in its 2nd year.
Methodology
Based on the scale of the programme, it was determined that the mixed-methods approach was the best way to review how effective the programme was in improving the health and wellbeing of patients and reducing GP practice clinical workload.
A logic model for the programme was formulated and worked as a guide for our evaluation.
We looked at the processes involved in the development of the programme, its impact and potential. Patient data was collected from the GP database EMIS and the Outcomes STAR- a health and wellbeing questionnaire that patients completed at each visit. We engaged with a range of stakeholders including referring services, providers, and patients engaged in the programme about their experiences of the programme and views on the following: pathway, access to engagement, communication and data transfer and scalability.
Additionally, we observed the Social Prescribing interventions at the beginning of the pilot and towards the end of the pilot to feedback on the behaviour change conversations.
Outcomes
We produced three formative reports and one final summative report wh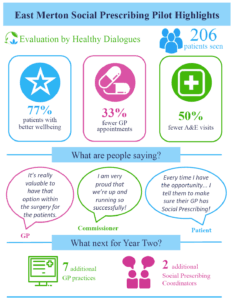 ich looked at the pathway as described by interviewees and included opportunities and recommendations for enhancing that pathway when upscaling the programme.  We also included an overview of the demographics of who were engaged in the programme and a statistical analysis of the impact on the programme.
Our final evaluation, published in July 2018 was highly celebrated across the Social Prescribing community in the UK.
You can read the pilot report here: East Merton Social Prescribing Evaluation Report 2018
An update of this evaluation for the whole of Merton was completed in August 2021. This can be found here: Merton social prescribing evaluation report