MECC in the Wider Workforces – Training and Evaluation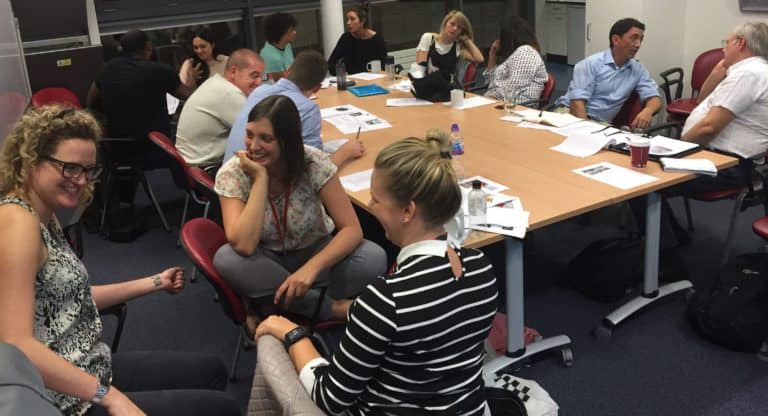 Background
Making every contact count (MECC) is a behaviour change approach that enables people to make improvements to their health behaviours by providing consistent and simple messages and signposting to services.
The MECC in London Steering Group recognised the huge potential in engaging the voluntary sector and wider public health workforce in delivering MECC across London. Healthy London Partnership worked with London Fire Brigade (LFB) and the British Red Cross (BRC) to pilot MECC in their services. The purpose of the project was to look at the impact of implementing MECC through the voluntary sector and wider public health workforce and build learning for wider scalability at a national level. Healthy Dialogues were commissioned to deliver MECC training to the LFB Community Safety team and the BRC Independent Living Team and evaluate the outcomes of that training.
The Training
The training was based on the Ask, Advise, Assist model of MECC and topics addressing health behaviours, wellbeing and the wider determinents of health. These included, smoking, alcohol consumption, physical activity, falls prevention, isolation and loneliness and winter warmth.
The aim of the pilots were to assess whether MECC acted as an effective tool for health promotion and was compatible with the existing service delivery in settings outside of healthcare.
The MECC training was created to
Build learning and inform best practice for MECC in the voluntary sector across England to use the learning for wider scalability at a national level by working with the current frontline staff to upscale their capabilities.
Be implemented across London health and community settings and develop innovations as well as an evidence-base that will inform a framework for health promoting environments and future work with the voluntary sector
Add value to the LFB and BRC own project outcomes by enabling staff to signpost beneficiaries to health and wellbeing services
Outcomes
In total Healthy Dialogues trained 12 LFB and 36 BRC staff, who reported high increases in their knowledge, confidence and intentions to deliver MECC conversations as a result of the training.
In the four months following their training the teams delivered a very encou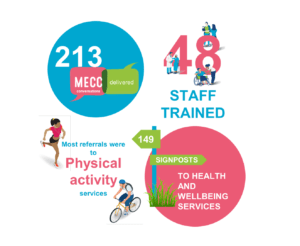 raging number of referrals. The LFB had 83 MECC conversations and made 76 referrals to health and wellbeing services.  The BRC had 130 MECC conversations and made 73 referrals to health and wellbeing services.
We conducted follow-up focus groups with staff at 3- and 6-month intervals to assess what they remembered from the training as well as their confidence in implementing the training. They MECC training proved to be highly valued by staff which enabled them to have the confidence and skills to initiate conversations with their service users about making healthy changes.