An evaluation of the Roehampton Community Capacity Project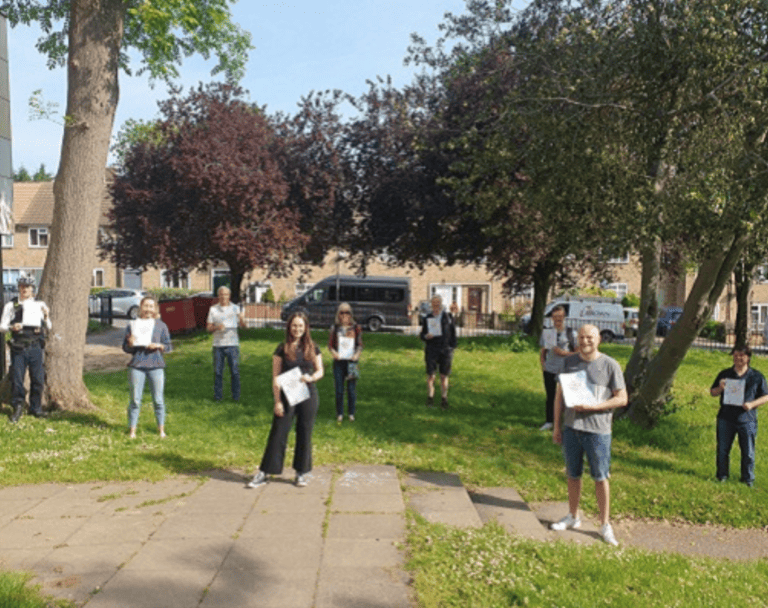 The Roehampton Community Capacity Project arose as a mechanism to support the local communities and residents of Roehampton to begin working together to build a thriving community. The exploratory three-year project was set up in 2020, funded by Wandsworth Council and led by Citizen's Advice Wandsworth. Drawing on the Asset Based Community Development approach, its aims were to build organisational capacity in the area, advocate for the community, nurture projects and work towards a long-term programme that is independent of the council funding.
Methodology
Healthy Dialogues was commissioned to evaluate and explore the impact of the project and the future sustainability of the work.
The evaluation objectives were to: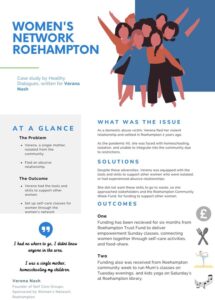 Compare and benchmark with other similar projects encompassing community development or capacity building in London.
Provide a review of the project at current stage against the original commissioning brief and objectives.
Assess learning from the COVID-19 response network, and understand how this has contributed to community development.
Capture any case studies that have thrived because of the Roehampton response network meetings.
Explore opportunities for sustainable funding, and projections for the future of the project.
Healthy Dialogues took a mixed-methodological approach to this evaluation, combining survey data, mapping against other similar organisations, mapping against project deliverables, capturing case studies, and qualitative interviews with stakeholders.
Key findings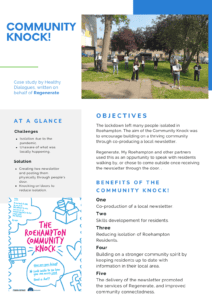 Our findings showed that the COVID-19 pandemic lockdown had acted as a catalyst for mobilising the Roehampton community capacity project. Various successes were highlighted including the development of the Roehampton Response Network (RRN) and the co-development of community initiatives such as Roehampton Community Knock!, and the Roehampton community week for residents to access small funding pots. The resident survey showed that locals felt better connected to one another and became more aware of services and projects taking place. Despite these successes, numbers on the response network meetings begun to decline following the COVID-19 pandemic as communities started integrating back into normal working routines and busier schedules.
Our report provided a range of practical short-term recommendations for building on the existing community engagement and explored options for the long-term sustainability of the programme.